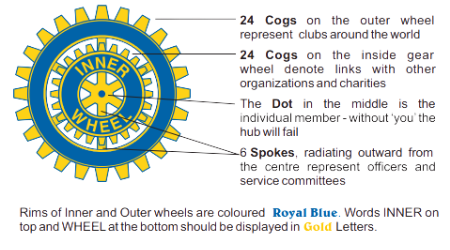 The LOGO is obviously a gear wheel, The TEETH on the outside represent the clubs around the world, if one of these teeth breaks off, the gear may slip a bit, but it still works.

The 6 SPOKES represent the officers and service committees & even if one of these fails, the movement will continue. The teech on the inside GEAR WHEEL represent the links with other organiztions and the charties and the work we do.

If one these teeth gets broken off, rest will continue to benefit. The "DOT IN THE MIDDLE, IS THE INDIVIDUAL MEMBER. WITHOUT WHICH, WE THE INDIVIDUAL MEMBERS, THE HUB WILL FAIL AND NOTHING WILL WORK".

So don't forget to oil the HUB, which helps to make the GEAR run smoothly.
The colour is also important which is ROYAL BLUE for the clubs.