Know Your District Chairman 2022-23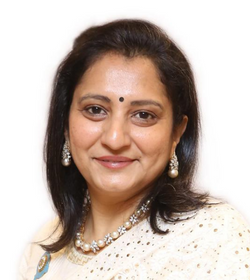 Before she joined forces with one of the world's largest women's philanthropic organisations, she was an active member of the financial and equity markets in Mumbai.Atrue blue Mumbaiite, Mita Sheth matriculated from Walsingham House School and pursued an undergraduate degree from Sydenham College. As Mita had been an avid member of the Interact Club in school, she carried forward the interaction in college by joining the Rotaract Club of Bombay Queen's Necklace. Her contributions to programs like World Vision and MUNAat the time set the stage for the extensive and impactful work she would do in life after that. Mita completed herpostgraduatestudies in financial management from KC College.
In college, Mita also met fellow Rotaractor and soulmate Ketan. They married in 1992 and have two wonderful sons Harshil and Purav. Subsequently, she joined a Portfolio Management company, guided HNIs and corporates in making strategicinvestments that boosted their financial portfolios.
In 2011, Mita became a founding member of the Inner Wheel Club of Bombay Bayview, which became the start of a deeprooted tryst with service, and friendship. Mita helmed the club in 2012 as its President and established its efficacy for growth and development by launching the club website. She created social media awareness for the club, a futuristic act in a time zone when women felt alienated from technology and the virtual world.
Innovative in every endeavour of hers, throughout her time with Inner Wheel, Mita provided its members with enlightening and memorable experiences. As President, she set up an organic garden to give the daughters of sex workers nutrition and good health; as a determined social worker, she envisaged and executed a unique fund-raising shopping bazaar - Prayaas - at Phoenix Market City; in 2014, as Club Treasurer she introduced e-Receipts to support environmental protection, once again educating her members on the wonders of technology. In 2016, she helped her club plan and conduct a one-of-a-kind sports event for children with special needs that the incumbent Governor of Maharashtra Vidyasagar Rao attended.
Subsequently, Mita held many posts in Inner Wheel District 314, always supporting her leaders and learning from them: As District Editor She Increased the district's social media presence by launching its Facebook page, as District ISO she undertook Bharat Ke Veer project where she collected Rs. 45 Lacs getting national recognition for Inner Wheel District 314, as District Treasurer she Introduced digital receipts in the district and as District Vice Chairman she has conducted a workshop for teaching a certified course in CANVA, a graphic designing platform to over 6500 under privileged children over 7 sessions.
Through her commitment to social upliftment, in the year as District Chairman of Inner Wheel District 314,we can expect to find Mita wearing many hats and fulfilling many responsibilities. Today, in all her roles together, she stands for being the complete and holistic woman, who manages her home first, her business, and her passion adroitly and with exactitude.