Know Your District Chairman 2021-22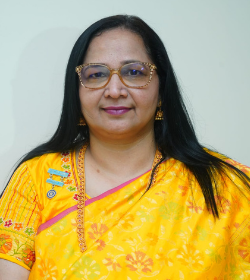 Sunita, born and brought up in Mumbai had her schooling from Udayachal Godrej School and Postgraduation in Clinical Psychology from SNDT University, Mumbai. She has worked with K E M Hospital Mumbai on the HIV research project. She is a practicing Clinical Psychologist in Dr L H Hiranandani Hospital Powai and Thane for the last 15 years.
Having a purpose in life is one of the fundamental factors of happiness. Without it, you will live your life less focused and less efficient. These thoughts of wisdom from her teacher are a guiding force for her in every step in her life.
Social work and community service always appealed to her and as a college student she was involved in various social activities. In NSS she was involved in different social drives like Blood Donation and teaching underprivileged children etc.
Her Inner Wheel journey started in 2003. She completed various posts at the club level & has been instrumental in organizing many dynamic projects & seminars during her Presidentship, some of them were Healthy Baby Contest, which saw participation of 200 babies, Vocational Training program for special children for three days which was inaugurated by IIW President Dr. Pallavi Shah, Fund Raising by organizing a cultural event of Lavani performance by famous dancer Surekha Punekar, Stress Management workshop for Traffic Police etc. She also received the District Award for inducting 25 members in her Presidential year
She worked in SAR gift committee in 2013-14. She has served as Zonal Co-Ordinator in 2014-15, where she supported district by collecting highest souvenir advertisements. She was Urban Project Co-ordinator in 2015-16. She entered the Executive Committee as District Editor in 2016. As District ISO she had an innovative theme for ISO meet, which was Dressing up with Eco-friendly material. As District Treasurer she has worked hard to get GST number for District. As District Secretary and District Vice Chairman she has fulfilled her duties gracefully. During her Inner Wheel journey, she has attended 2 International Conventions, 3 Triennials and a South Asia Rally
She is leading the Inner Wheel District 314 as District Chairman in 2021-22 having an extraordinary quality to accept challenges by setting and showcasing a perfect example of women power with exemplary and outstanding courage.
She is a very practical person and believes in teamwork. Her firm affirmation is that in the year 2021-22, along with District Executive Committee, Club Presidents, all members of District 314, all Past District Chairman, Association of Inner Wheel India and International Inner Wheel, we shall stage Inner Wheel at newer heights of human service, fellowship and bonding.
Her husband Dr Sanjeev Jain is Consultant Orthopaedic and Joint Replacement Surgeon at Dr L H Hiranandani Hospital Powai and Thane. He is a Rotarian since 2003, Past President and presently a member of Rotary Club of Thane Aces. He has served Rotary District 3140 & now 3142 at various positions. Currently he is Assistant Governor in RID 3142. He is a Major Donor, Level 1 to The Rotary Foundation.
They are proud parents of two lovely & talented daughters, elder daughter Dr.Sanjana is pursuing her Medical PG Entrance Exam & younger daughter Sagarika, has started her medical journey by joining MBBS this year. The whole family are pet lovers and they have 3 wonderful dogs- Leo, Archie and Zeus.